Visualize physical workload in real time
Lightweight wearable sensors (XSENS) capture all body postures and movements at work, while the associated software visualizes them using an avatar and analyzes them in real time with 20+ animated stress parameters. A switchable webcam, photo-realistic 3D environment display and the input of load weights expand the application possibilities of the intuitive measurement and feedback system, which can be learned in just one training day.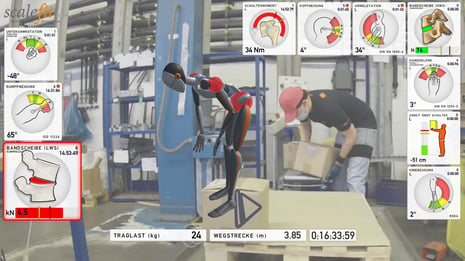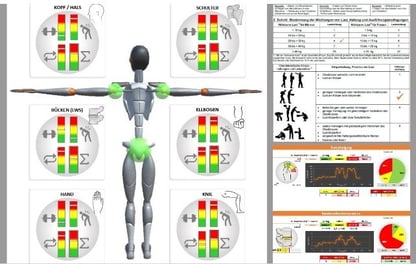 Detailed reports for convincing ergonomics analyses

All measurement data is output as a clearly prepared, Excel-based results report with a quick overview and detailed analyses, stress score and key indicator method. The interactive and editable report analyzes forced postures, repetitions and the effects of force on the affected body regions (e.g. back or shoulders) and evaluates them taking into account the current norms and standards (DIN, EN, NIOSH). You can choose between 14 different languages with a mouse click. All data is openly accessible and can be used as input for further software analysis.
Fields of Application

The ECN award winner INDUSTRIAL ATHLETE is used in occupational safety, occupational medicine and BGM, for example to create digital ergonomic analyzes and risk assessments (e.g. KIM LHC, RULA) or to carry out preventive programs efficiently and sustainably. In research and development as well as in science, the measuring system is also used for ergonomic product and process evaluation, e.g. when evaluating the efficiency of work equipment and aids (including exoskeletons) or the design of high-performance workplaces in production and logistics. SMEs, large companies and the healthcare sector make it possible to develop low-stress workplaces and health-promoting measures for their employees and thus make a targeted contribution to the prevention of work-related musculoskeletal disorders.

Biomechanics for healthy work

Our scientific expertise results from more than 20 years of research and development work at the Institute for Biomechanics and Orthopedics of the German Sport University Cologne and at the Institute for Occupational Safety and Health of the DGUV. Our innovative measuring system is already being used in Germany, Austria, France, Belgium, the Netherlands and Scandinavia (e.g. Fraunhofer institutes, universities, SMEs and large companies).

Detailed information as well as case studies on the INDUSTRIAL ATHLETE can be found on our homepage www.scalefit.de.